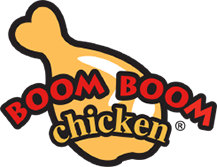 Open hours:
Daily, from 11:00 AM till 08:30 PM – Sunday 11:00 AM till 8:00 PM
Contact information:
+1-732-248-7885
Website:
Boom Boom Chicken
Our Story
How do the customers describe Boom Boom Chicken? Our chicken?
"OMG!!!!! It is sooooooo good!!!!"
What is a "Boom Boom" chicken?
It's the newest Korean food vendor in town, specializing in delicious fried chicken with a cultural twist. Located at 1751 State Highway 27, Edison, New Jersey, Boom Boom Chicken is offering customers a style of fried chicken that has long been a traditional food staple in Korea, but is just starting to attract much-deserved attention in the United States.